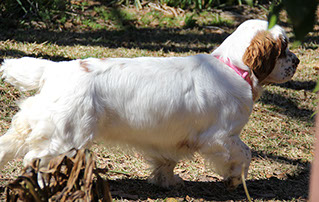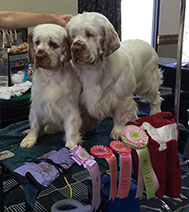 Welcome to Cupric Clumber's Kennel.
We are a small kennel, our focus is on producing sound healthy Clumber Spaniel's and continuing the hunting tradition for which they were bred.
My love of sporting dogs began at an early age. My first dog (our family dog) was a beautiful Irish Setter, Misty. Misty had a fun time in obedience, until her untimely death. She was followed by Ryan, a beautiful male whose only purpose was to love and play. My first mentor, my mother, began a show career with Lhasa Apsos after I went off to college. Whenever I was at home I would go to shows with her, and during those years I learned so much about dogs and dog shows. It was at one of these shows that I was introduced to the wonderful Clumber Spaniel through a good friend of my mother's. I fell in love with the breed, and vowed that someday I would own them. At Cupric Clumber, we not only show in conformation, but also work with our dogs in performance, which includes hunting and obedience.
Please take the time to explore the site. If you are interested in having a Clumber in your life, please research whether this is truly the breed for you. You may contact us for more information, and please also visit Clumber Spaniel Club of America, at www.clumbers.org there is a link to the website on our links below.
All Breed Clubs
MLOTC (Muskegon Lakeshore Obedience Training Club)